For decades, Rockwell Land has been providing not just shelter within city centers but a lifestyle where residents can find leisure in well-appointed amenities, form genuine friendships with neighbors, as well as relax within the privacy of their units.
After residing some years in San Francisco, Monchet and Margie Olives moved back to the Philippines and found their home at the West Amorsolo Square in 2001 and later on at Joya Towers in 2009, both at Rockwell Center in Makati City.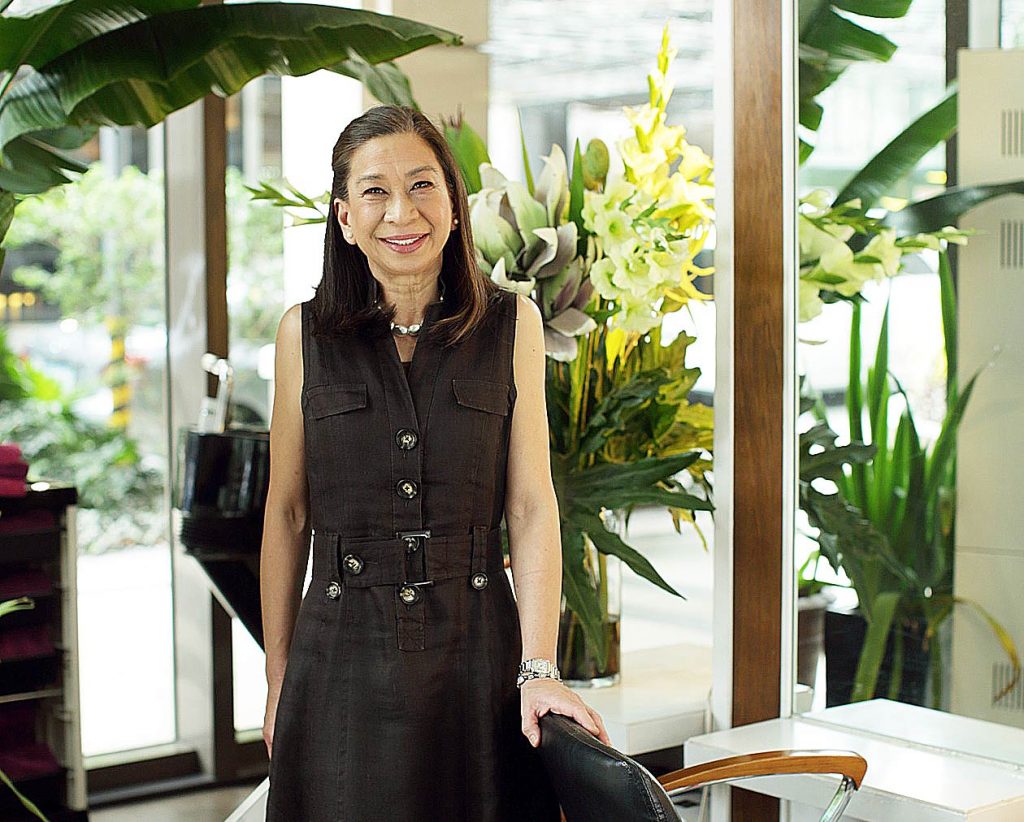 "The list of reasons why we stay here can go on forever," says Margie, who has become an institution at the Rockwell Center for being the smiling face of Emphasis Salon. "The security in this community is the best thing that keeps us here… and of course, the fact that when Manila is in darkness without electricity, or when the city has no running water, Rockwell is up and running," she shared.
Being a pet-friendly neighborhood, Monchet and Margie are also glad that their 13-year-old French Bulldog Bambi is welcome in the community. Margie shares, "It is always knowing that Bambi is safe while we are away and that we have a haven to come home to… We are happy here."
Living in Makati also allows the couple to live closely with family, one of the biggest reasons why they chose to plant their roots in Rockwell.
Family is also a priority for Toby and Val Tangsoc, who lived in a one-bedroom unit at The Grove in Pasig City as newlyweds. Toby shared how the community made their transition into the neighborhood easier. "People were very friendly. Everyone knew us," he recalled. They also felt safe with the security in place. "It was homey, and we felt very protected," says Val. "We loved the fact that [the management] were strict when it came to the safety of residents."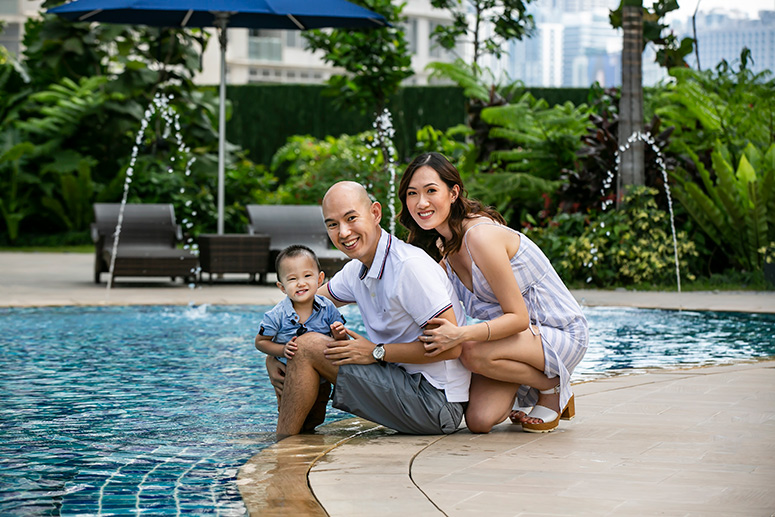 With children now in the picture, The Tangsocs moved to a townhouse in Quezon City but found that it also came with its own challenges. Keeping in mind the convenience of a Rockwell community, they are now gearing up to move to The Proscenium, where they can have more space for their growing family. Here is where Val's parents also decided to purchase units after seeing the warmth and genuine concern from their previous home at The Grove.
And when it's safe to travel once again, the Tangsocs have their holiday home at Aruga Resort and Residences in Mactan, Cebu to look forward to. The couple also decided to invest in a home outside Metro Manila after experiencing the verdant environment and stellar facilities that Rockwell is known for. "It really is a great community," Val confirms.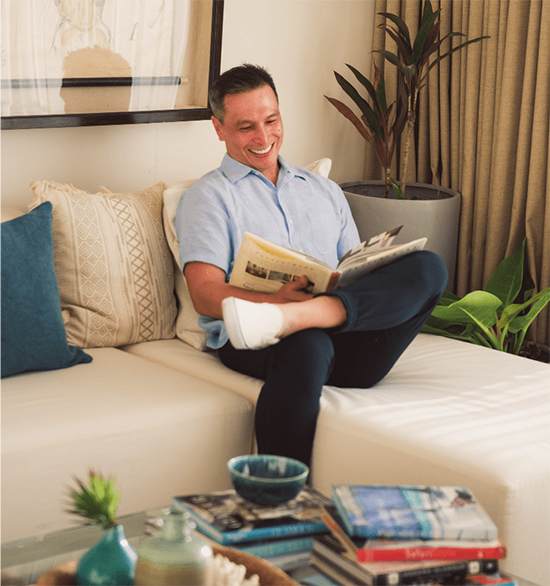 After nearly three decades of living and working in the US, a Rockwell community in Cebu is where lawyer Hever "Joby" Bascon Jr. and his wife Monica have decided to come home to as well. The couple is set to enjoy their retirement in comfort and luxury at 32 Sanson in the neighborhood of Lahug.
In a previous interview with Sun Star Cebu, Joby shared why they chose to move back to his hometown after 27 years in Washington DC as a corporate lawyer for law firm Steptoe & Johnson LLP, while Monica worked at the World Bank.
"Since we want to spend more time for ourselves and our family, we thought that this will be easier and more convenient," Joby shared, pointing out that moving back to Cebu is meant to bring him closer to his parents. In fact, his brother and sister have decided to purchase their own units at 32 Sanson as well—somehow turning their community into a family compound.

He also wants to take this opportunity to share their Filipino heritage to their kids who were both born in the States. "I did not want them to grow without understanding the language or not being proud of being Filipinos… We always made it a point for them to know their identity," Joby said.
Moving back to the Philippines, choosing a condominium unit over owning a home was easier for the couple when they considered the convenience and ease of maintenance. And at 32 Sanson's new Solihiya Tower, they couldn't find a better reason to stay.
"We wanted to have a place with a beautiful garden setting. As soon as you get out of the building, it's very serene and you can contemplate. We found that here," Joby explains.
"Life is too short. The pace of life here is, for me, a lot better."
Heading To The City of Smiles
After creating thriving spaces in Metro Manila and Cebu where life and leisure intertwine, Rockwell Land introduces its signature lifestyle to Bacolod through Nara Residences, its first high-end residential development in the province. Soon, life in Bacolod will be made sweeter with the curated comfort and convenience that residents here can savor every day.
Giving the City of Smiles more reasons to be happy, Nara Residences combines the warm coziness and urban modernism Rockwell is best known for, with the cultural tapestry that makes Bacolod one of the top destinations in the country.
Within the development along GM Cordova Avenue, residents will find their new home and new lifestyle that pay homage to the province's rich culture. Nara Residences boasts 11 hectares of sprawling Bacolod lands, 80 percent of which will be dedicated to open spaces to make sure the residents will have ample access to nature and enough space to enjoy with loved ones.
The residential complex is strategically located a few minutes away from the Bacolod-Silay International Airport and Lacson Street, as well as essential establishments like  Bacolod Queen of Mercy Hospital, and places of leisure such as the Mandalagan Golf Course; but within the premises, residents can enjoy amenities like the clubhouse in the heart of the community with the exclusive resort-style swimming pool, fully equipped fitness gym, as well as venues for private functions to celebrate milestones. An outdoor multi-purpose court is also accessible to residents and their guests so they could train or have fun with a friendly game of basketball or tennis. Around the premises, premier retail shops and restaurants are also set to provide convenience to residents and neighbors.
The residential building consists of only a few units to a floor to ensure adequate space and privacy for everyone. Within their own homes, they can enjoy their three-meter-high ceiling and wood-like tiles—reminiscent of the province's grand heritage houses. The entire property is also fitted with top-of-the-line safety features, ventilation system, CCTVs, and 100 percent standby emergency power to ensure everyone's security and comfort.
Nara Residences is set to offer the warmth and hospitality that Rockwell residents have come to know and love, while catering to the unique needs of Negrenses. From Makati City, to Pasig, Cebu, and now Bacolod, the sense of community continues and makes Rockwell an ideal address wherever you are.
To know more about Nara Residences by Rockwell, contact +63-917-515-NARA (6272) or visit www.nararesidencesbyrockwell.com.
Source : https://propertyreport.ph/going-beyond-the-signature-rockwell-lifestyle/